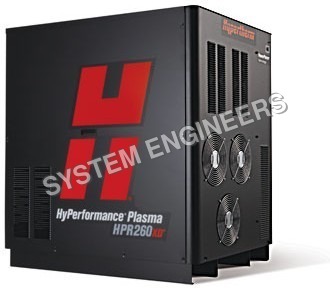 Product Description
HPR 260XD
The HPR260XD combines fast cutting speeds, rapid process cycling, quick changeovers, and high reliability to maximize productivity.
Key advantages
Superior cut quality and consistency
Patented HyDefinitionR technology aligns and focuses the plasma arc for more powerful precision cutting up to 64 mm.
Patented system technologies deliver more consistent cut quality over a longer period of time than other systems available on the market.
Patented LongLifeR technology significantly increases consumable life and enables consistent HyDefinition cut quality over the longest period of time.
OPERATING DATA
Mild steel cut capacity
Dross free - 32 mm
Production (pierce) - 38 mm
Severance (edge starts) - 64 mm
Stainless steel cut capacity
Production (pierce) - 32 mm
Severance (edge starts) - 50 mm
Aluminum cut capacity
Production (pierce) - 25 mm
Severance (edge starts) - 50 mm